Product image 1
Product image 2
Product image 3
Product image 4
Product image 5
Radius T°™ Continuous Thermometer-3 Pack
30 Day Money Back Guarantee
Only available in the United States
Keep an eye on a loved one's temperature – continuously, remotely, and hassle-free.
Radius T° is an innovative new wearable and disposable thermometer for ages 5+ that sends round-the-clock temperature measurements and high temperature notifications directly to your mobile phone. Now you can easily keep an eye on a fever, so you don't miss something important.
Each kit contains 3 single-use continuous thermometers, each lasting up to 8 days.
Change to hassle-free continuous temperature tracking
Hassle-free temperature measurements, 24/7 for up to 8 days. Keep a constant eye on their fever, without even waking them.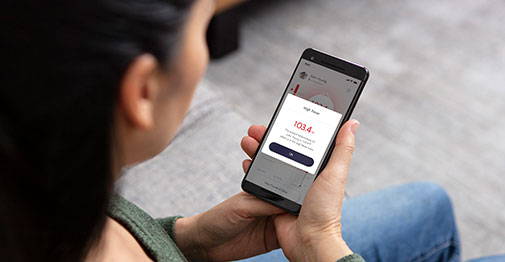 High temperature notifications
Automatically sends readings to your mobile device and notifies you if temperature is high.*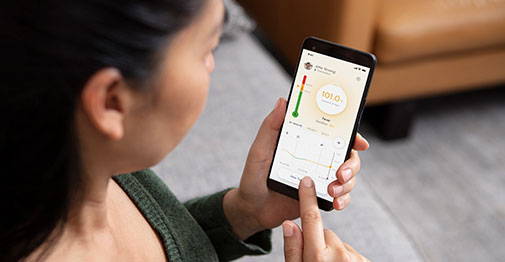 A regular thermometer tells you where your fever is. With Radius T°, you continually see if temperature is trending up or down, so you can see how the fever is progressing.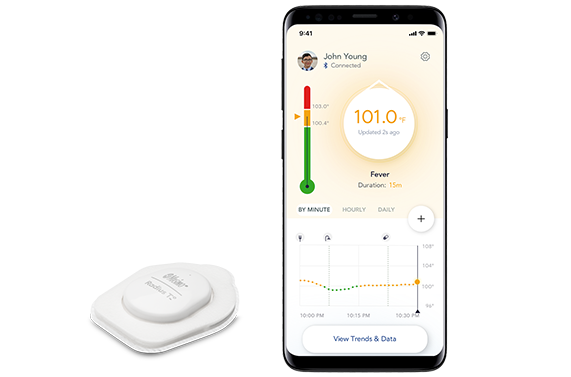 Hassle-Free Continuous Thermometer
Comfortably worn on chest for up to 8 days
Water resistant – can be worn while showering
Fully disposable after use
Reliable accuracy (± 0.2°F)**
Seamlessly sends data to mobile device via Bluetooth®
Can be used by anyone age 5+
Always at Your Fingertips
With the Masimo Radius T° mobile app, you can easily keep an eye on a fever*
See if temperature is in or out of range at a quick glance.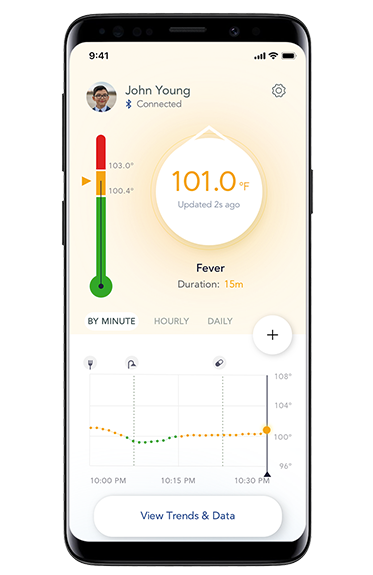 Easily see which way temperature is trending and how long it's been high, so you can monitor progress.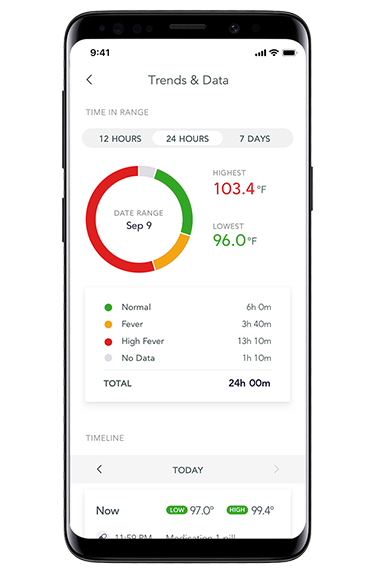 Automatically notifies you if the temperature is high, so you know when additional action may be needed.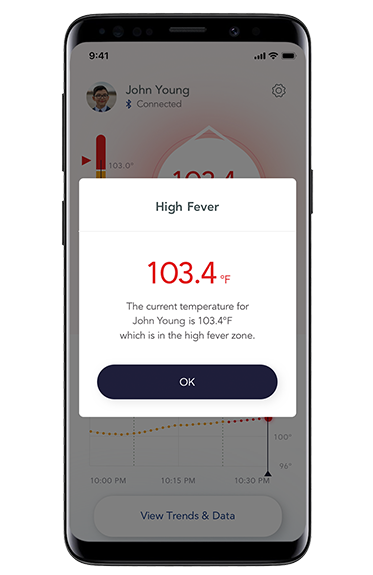 Available for Apple and Android devices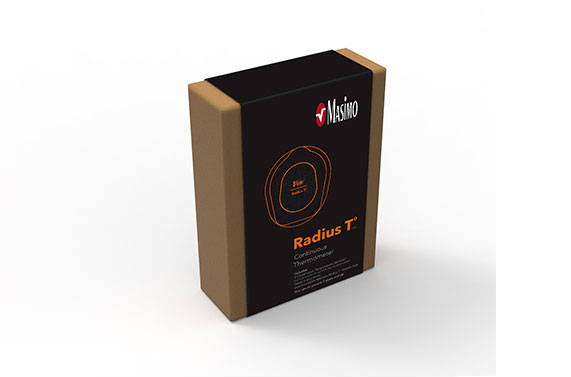 Radius T° System Includes:
3 Continuous Temperature Sensors
(each wearable for up to 8 days & disposable)
Setup Instructions
Downloadable Masimo Radius T° Mobile App
30-Day Return Policy on Unopened Boxes
* Mobile device must be within Bluetooth® communication range and connected to temperature sensor to receive continuous readings and notifications. When not connected to your phone, the Radius T° Sensor stores at least 8 hours of temperature readings and will transfer that historical data to your phone when you reconnect.
** The laboratory accuracy of Radius T° is ±0.18°F (±0.1°C) for an input surface temperature range of 77°F to 109.4°F (25°C to 43°C).
Radius T° is not FDA 510(k) cleared. The device is marketed under the FDA's Enforcement Policy for Clinical Electronic Thermometers During COVID-19.
Serial Number: PLCO-004596/PLM-12590C-1220