In just three easy steps, you can be off to a Masimo Sleep:

Confirm mobile device is connected to the internet. Download and launch Masimo Sleep App and follow instructions.

Apply the sensor to your wrist and finger and insert the chip. Follow on-screen instructions for more detail.

Confirm that Bluetooth® is enabled on mobile device. Follow on-screen instructions to pair Masimo sensor. Once paired, tap Start Sleep Session.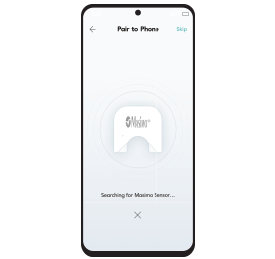 FAQs
What is included in the Masimo Sleep kit?
The Masimo Sleep kit contains one (1) Masimo Sensor, one (1) Masimo Chip, 12 Replacement Tapes, and Setup Instructions. The Masimo Sleep App is available on the App Store for iOS devices and Google Play for Android devices. Download the app now to complete onboarding so you will be ready when it's time to go to sleep.
Does the system require a smartphone?
Yes, a smartphone device equipped with Bluetooth is necessary to use Masimo Sleep.
Is the system compatible with my smartphone?
Is Masimo Sleep compatible with tablets?
No, Masimo Sleep is not configured for use with tablets.
How do I download the Masimo Sleep App?
Search for Masimo Sleep on the App Store or Google Play.
Does Masimo Sleep require Wi-Fi?
Once the app is downloaded onto your smartphone, you do not need Wi-Fi or a cellular data connection. The wearable sensor connects to your mobile device via Bluetooth.
How long does the sensor last once I start using it?
The sensor batteries should last for up to 96 hours of continuous use. The light indicator on the Masimo chip will flash orange when the sensor battery is low. A flashing red light indicates the sensor battery is out of power and needs to be replaced.
What can be done to make the sensor battery last longer?
When the sensor is not in use, you should remove the reusable chip and place the yellow adhesive label back on the chip holder portion of the sensor.
How close does my mobile device need to be to the sensor during a sleep session?
The sensor must be within Bluetooth® range of your mobile device to receive data. This distance can vary depending on the use environment, but can be up to 100 feet maximum distance with direct visual line of sight between the sensor and your mobile device.
Can I use my mobile device to do other things during active Sleep Sessions?
Yes, the app can run in the background and continue to receive data collected from the sensor. Do not close the app during a Sleep Session.
Can I get the sensor wet?
You can wash your hands while wearing the sensor; however, avoid submerging it in water. Do not wear the sensor in the shower or bath. You should replace the adhesive tape when it is dirty or no longer sticking.
What do I do with the chip when I change sensors?
How do I dispose of the Masimo sensor and adhesives tapes after I've used them?
The Masimo sensor and adhesive tapes can be disposed of as part of standard waste collection. The Masimo chip should not be discarded; it can be reused with a new sensor.
What do the different colored lights on my Masimo chip mean?
The Masimo chip includes a light to indicate sensor and pairing status. Refer to the table for a description of the colored lights.
Color
Description
Next Steps

Masimo chip ready to pair

Follow app instructions for pairing

Successful pairing of Masimo chip

Verify data is displayed on app

Remove yellow label and any obstruction from the white portion of the chip holder

Disconnect Masimo chip from sensor, wait 30 seconds, and insert chip into sensor

Consider replacing sensor; do not discard Masimo chip

Battery depleted or sensor needs to be replaced

Replace sensor; do not discard Masimo chip. If issues persists, replace Masimo chip

Contact Masimo Customer Support, or replace sensor and Masimo chip
What happens to my reports and data saved in the Masimo Sleep App?
Your Masimo Sleep data, which includes any data you enter manually, your vitals data, and your 7-Night Report remain on your mobile device until you delete the app.
Can I share my data with friends and family?
No. Masimo Sleep App does not currently support sharing data.
What is the warranty for Masimo Sleep?
What is the Masimo Sleep return policy?
Troubleshooting
Symptom
Potential Causes
Next Steps
Vitals data not displayed or measurement values don't look correct

Obstructed or misaligned sensor LED (*) and detector (■)
Masimo chip is not fully inserted or has not been properly paired
Sensor is damaged

Readjust alignment of the sensor LED (*) and detector (■). Re-install the Masimo chip and repeat the pairing process.
Click in the Masimo chip and repeat pairing
Review Safety Precautions for possible reasons for no readings
Replace Sensor
Contact Masimo Customer Support

Vitals data not displayed or measurement values don't look correct

Chip is not fully inserted
Bluetooth is not enabled on mobile device
Sensor is damaged or sensor battery is depleted

Ensure chip is inserted in the sensor and blinking green, or blinking blue if this sensor was previously paired.
Ensure Bluetooth is enabled on your mobile device
Replace sensor if chip indicator light is orange or red
For Android, ensure "Location Services" are enabled for the app.
Masimo tests and validates with a variety of mobile devices to ensure compatibility. If you do not see your mobile device currently listed below, check back soon, as we frequently add support for new mobile devices. Please contact Masimo Customer Support with any questions.
Phone
Apple

iOS 13 and up
Display Size 4.7" and up

Android

Android 6.0 and up
Display Size 4.7" and up
Tablets
Tablets are not compatible with Masimo Sleep at this time.


Contact Us
Please contact Masimo Customer Support with any questions. For customers traveling outside the U.S. with their Masimo product, local contact information can be found at https://www.mymasimo.co.uk/contact-us/.
Headquarters
52 Discovery, Irvine, CA 92618
We welcome your feedback! If you have a question, comment or concern, please complete the form below.
PLCO-004308/PLM-12648A-0920