Helps you see if your workouts are improving your fitness
See patterns and trends over time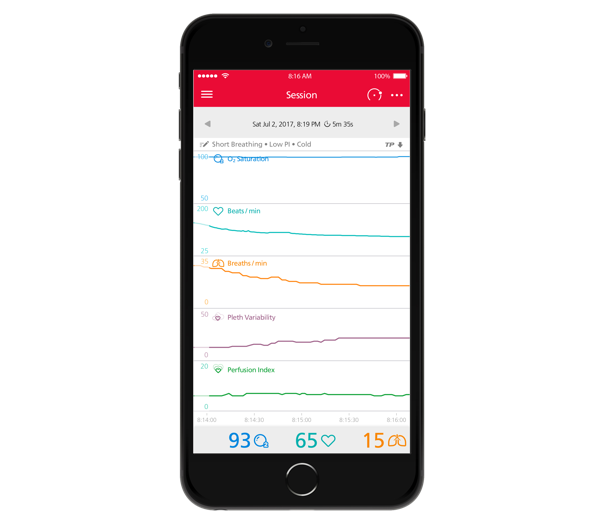 Alerts when health values are out of target range
Share data with friends, family or caregivers
Heart rate recovery calculator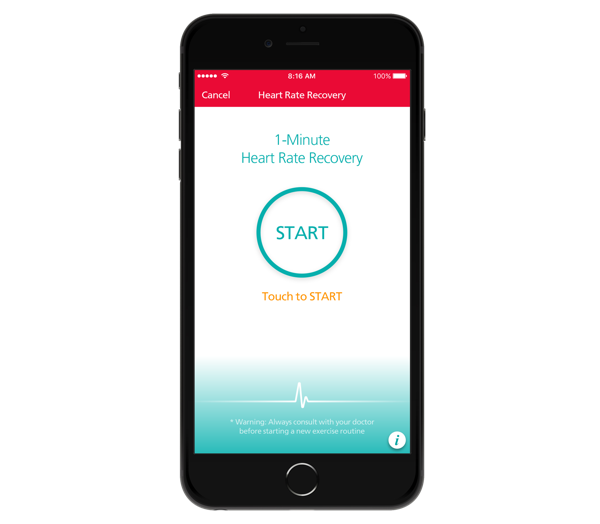 View live measurements throughout the App
Set your low and high thresholds for each measurement
Audible notifications depending on your preferences and settings
Ability to create multiple user profiles
Tag your sessions
Share multiple sessions
Share your data through email and social media
Automatically store your data in Apple Health and TrainingPeaks
Connects via Bluetooth® or Connecting Cable to the following Masimo products:
Available for Apple iOS and Android devices
Download and install the free Masimo Personal Health App from:
Compatible with iOS10, 11, 12, and 13: iPodTouch (5th generation), iPhone 4S, iPhone 5, iPhone 5S, iPhone 5C, iPhone SE, iPhone 6, iPhone 6 Plus, iPhone 6S, iPhone 6S Plus, iPhone 7, iPhone 7 Plus, iPhone 8, iPhone X, iPhone XS, iPhone XR, iPhone XS Max, iPhone 11, iPhone 11 Pro, iPad Mini (1st generation), iPad Mini (2nd generation), iPad Mini (3rd generation), iPad Mini (4th generation), iPad2Reference two asterisks**, iPad 3, iPad 4, iPad Air, and iPad Air 2.
Compatible with Android Jelly BeanReference three asterisks***, KitKat, Lollipop, and Marshmallow: Samsung Galaxy Note 10 (2014 edition), Samsung Galaxy Note 4, Samsung Galaxy Note 3, Samsung Galaxy Note II, Nexus 9, Nexus 7, Nexus 6, Nexus 5, Samsung Galaxy S6, Samsung Galaxy S5, Samsung Galaxy S4, Samsung Galaxy S3, Huawei Ascend Mate 7, Droid Mini, Motorola RAZR M, Xiaomi Mi4, Micromax Canvas Juice 2, Micromax Unite 3
Reference 1 Estimate: Masimo data on file
One asterisk* Proven accuracy even when you're moving, for oxygen saturation and pulse rate
Two asterisks** No support for Bluetooth LE which is required for MightySat.
Three asterisks*** No support with Jelly Bean 4.1 and 4.2 which is required for MightySat.