Reopen responsibly and stay open safely during COVID-19 and beyond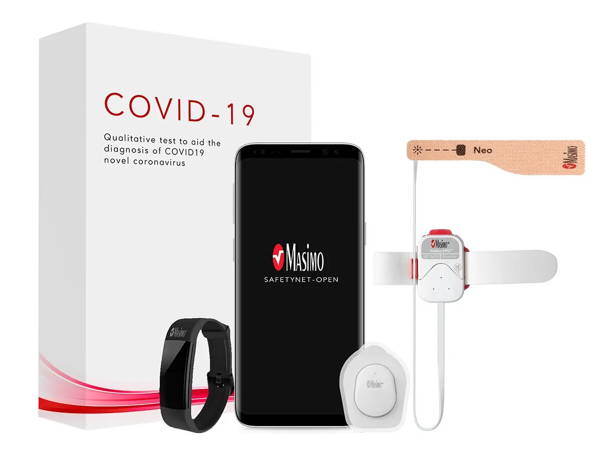 Masimo SafetyNet-OPEN is a complete, easy-to-implement solution to help you safely bring people back into the workplace and keep them protected.

SafetyNet-OPEN is a secure, HIPAA-certified web and mobile app solution for businesses, schools, and organizations to screen, trace, and manage users with COVID-19 or other infectious illnesses.
Users receive a personalized daily risk score based on data they provide.
Risk score advises the user to stay home, get tested, or seek treatment options.
Risk scores are automatically updated as users progress through monitoring protocols or the exposure status of their group changes.
Risk scores are automatically updated as users progress through monitoring protocols or the exposure status of their group changes.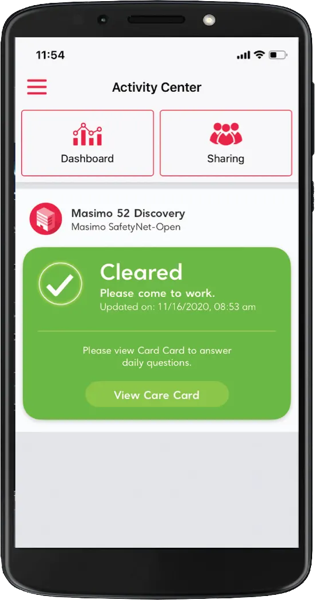 Each day before leaving home, users are asked to answer a series of questions, which are used to determine their risk score.
Users who report no symptoms are cleared and given a green pass to streamline re-entry into their workplace or school.
Users' COVID-19 vaccination status can be incorporated into risk assessment calculations.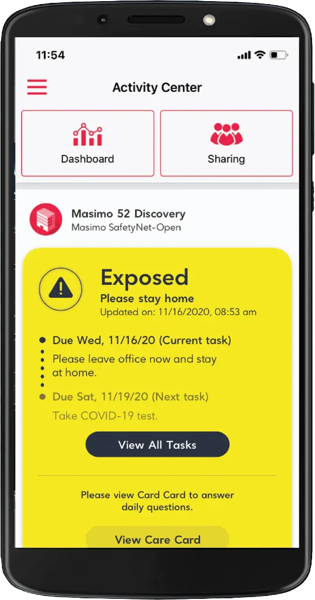 If a user indicates they have symptoms, their status changes to symptomatic. This also causes the risk status of their team members to change to exposed.
Exposed team members will be instructed to stay home for a period of time to ensure they remain symptom free before re-entering the community.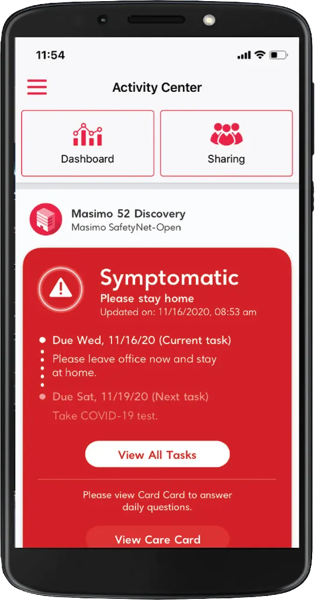 Symptomatic users will be automatically instructed to get tested and enter their results in the app.
If a user tests positive, their risk status will change to confirmed, and they will be given additional instructions to monitor their recovery.
Complete
All-in-one solution covers all stages of back-to-work management: risk screening, exposure contact tracing, and recovery management.
Powerful
Uses individual user inputs and CDC guidelines to identify those most at risk and provide guidance on actions to take.
Flexible
Can be easily customized to your organization's back-to-work policies and to changing local health authority guidelines.
Easy to Implement
Fast, turn-key implementation for organizations large and small—and our support team will work with you to ensure a seamless roll-out.
Trusted
Powered by Masimo, a leading provider of hospital-grade monitoring solutions used worldwide on more than 200 million patients annually.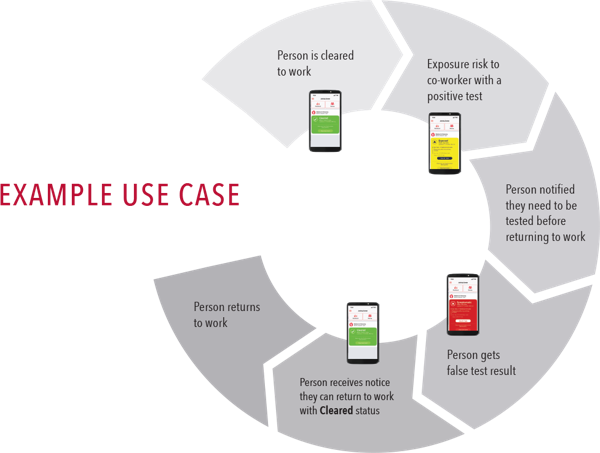 When escalation of care is needed, Masimo SafetyNet-OPEN easily expands to integrate additional solutions to help address specific needs:
Screen employees with on-site infection testing, implemented in coordination with a trusted lab partner
Improve contact tracing with proximity wristbands to help track users' exposure to those who may be at risk, including time spent in close contact
Incorporate vital signs monitoring data into risk assessment with Radius Tº™ and Radius PPG™, in collaboration with a trusted clinical partner such as the organization's healthcare provider or local hospital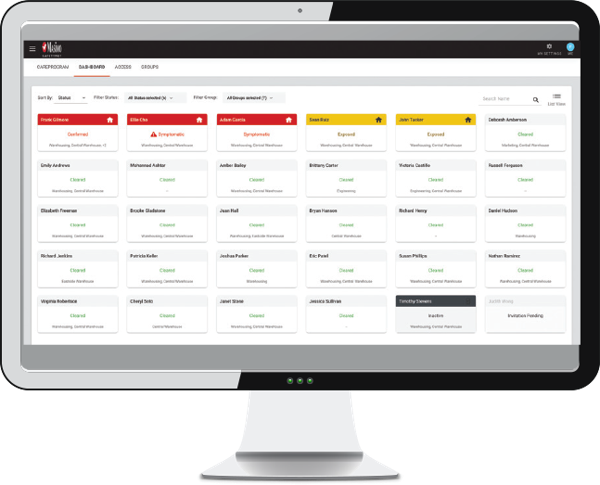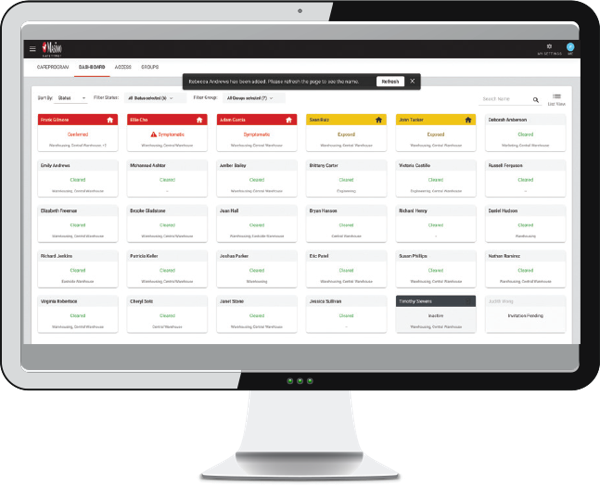 Workforce Management
Online dashboard provides a clear picture of each person's status—who's at risk, who's recovering, and who's cleared to work
Helps you efficiently and safely manage your team and clear those ready for re-entry
Fully Customizable
Provides complete control and management of your safety protocol
Ability to customize all aspects of risk identification, tracing and escalation:
Daily risk-assessment questions
Risk-score rules
Escalation policy when someone gets sick
Group assignments for contact tracing
Return-to-work requirements
Scalable
Seamlessly integrate data from other monitoring devices to help inform risk scores during recovery (optional):
Proximity Sensing
Wearable wristband that detects exposure to those who may have been at risk, including time and duration
Radius T°
Wearable thermometer that continuously measures body temperature and can help the user recognize the onset of fever
Radius PPG
Wearable sensor that continuously monitors key health parameters, including oxygen saturation, to help identify the need for medical attention
Caution: Federal (USA) law restricts Radius PPG to sale by or on the order of a physician. See instructions for use for full prescribing information, including indications, contraindications, warnings, and precautions. Radius T° is indicated for use on patients 5 years and older. Radius T° is not FDA 510(k) cleared; the device is marketed under the FDA's Enforcement Policy for Clinical Electronic Thermometers During COVID-19.
Serial Number: PLCO-004523/PLM-12785A-0321