With the Tokyo 2020 Olympics on the horizon, this is one of the most important years of my life. Everything I do is moving me toward the ultimate goal of winning Olympic Gold. Professional swimming is extremely competitive and I look for every edge I can find. Using the Masimo MightySat is one way I'm able to gain a competitive advantage because I'm able to efficiently monitor the way my body reacts to stress. It's important to work hard, but there comes a point when you need to let the body recover. Recovery is one of the hardest things for athletes, as it is so easy to push too hard, not knowing the harm that overtraining can cause. The MightySat helps me manage the balance between training and repair.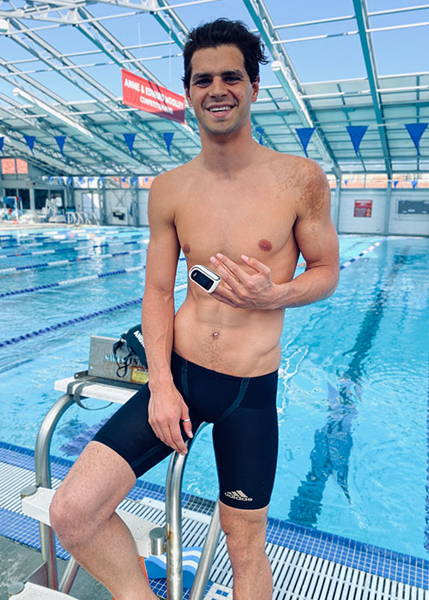 I check my stats with the MightySat in the morning when I first wake up and in the evening before going to bed. These readings provide a benchmark and give me something to compare as time goes on. My Monday morning reading will typically be high which indicates that I am well recovered and ready for a big week of training. Generally, that's because I've come off a relaxing weekend with light training. On a typical Monday evening, after my first full day of intense training, my SpO2 will have dropped from 99% to an average of 97%. This is a clear indicator that my body needs rest, so the next morning, I'll take extra time to roll out of bed, ice, or perform deep breathing exercises. After a good night of sleep my SpO2 will be back up on Tuesday morning. The SpO2 allows me to see cycles throughout the week. I've noticed that my body has a routine stress cycle as the training schedule stays relatively the same. Usually by Friday my body is tired from a long week and my SpO2 is sitting very low around 95% and its evident that I'll have to be very intentional about pushing through pain in training.
The MightySat helps me to know the truth about my fatigue levels and allows me to have peace of mind if I'm not hitting my fastest splits. This is one of the simplest ways to use the MightySat to reach peak performance and it's been a huge help in my daily routine. Other applications like the PVi reading, could be used to monitor hydration levels and the MightySat can even be used during workouts to measure what your heart is saying about the intensity of your training by watching the PR (pulse rate) measurement and RRp (respiration rate).
Thanks for reading along, and being interested in what I have to share. I'll see you on the pool deck! Michael Andrew
*This interview was conducted prior to Tokyo 2020 Olympics postponement announcement on 3/24/2020.