I use my Masimo MightySat, the most accurate pulse oximeter in the world, multiple times throughout a day. One of the biomarkers on the device is oxygen saturation (SpO2), which, if low, may be an indicator of fatigue or stress in the body. I've found that this number is super important to my training and recovery!
First thing I do every morning when I wake up is reach for my MightySat to check my numbers. I pay attention to SpO2 and PR. As a professional athlete, I push my body to its limit and I need to know every day if I'm recovered enough to do it again. By checking my oxygen saturation I KNOW if I need to take a recovery day or if I can really get after it and pound my body again. If my SpO2 number is 96 or below I know it's a recovery day. It means I have taxed myself so deeply following multiple days of intense training and I need a repair day so that I don't begin to dig a hole for myself. If it's above 96 I know my body is ready to take on another intense day! I LOVE THAT I DON'T HAVE TO GUESS! Before I started using the MightySat, I would take a recovery day when I felt like I needed one – a purely subjective measurement!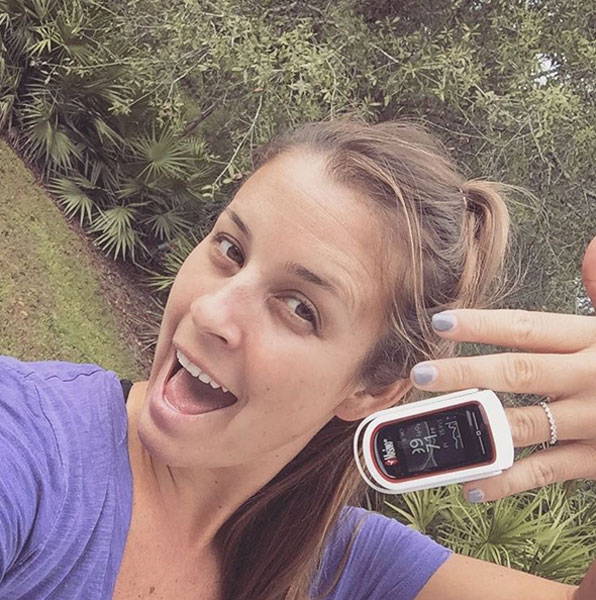 It's offseason but I still love checking numbers with my @masimopersonalhealth MightySat! Available for purchase from ! #betterdata #betterperformance #ad
I've come to learn that when I just guess, I actually needed that rest day long before I actually took it. So when I check my numbers in the morning I know right away what's happening in my body. I usually practice in the mornings, lift in the afternoons then finish the day with conditioning. I like to check my numbers in between each session. I want to get the most out of everything I do but without destroying my body. If my SpO2 number was above 97 when I woke but dropped to 96 (or below) after practice, I will alter the rest of my day. If I'm supposed to do an intense conditioning session, I will switch it up and do a light recovery spin on a bike instead. It's not always easy for me to scale it back since I've always been the type to do more and to go, go, go but I'm learning that taking care of my body and recovering properly is just as important as training really hard – and it's thanks to my MightySat that I can be confident in both my training and my recovery!