The three-time 250 class champion steps up to the 450 class with the aid of the Masimo MightySat.
A crash is not how Zach Osborne imagined his remarkable run in the moto/supercross 250 class would end. The three-time champion was eyeing a record fourth title in two years when he crashed midrace last June resulting in surgery to repair a torn labrum. After spending the summer rehabilitating his shoulder, Osborne immediately began preparing for his first season in the 450 class, which begins on January 5 at Angel Stadium in Anaheim, Calif. Close at hand every step of the way is his Masimo MightySat, a hospital-grade pulse oximeter that provides valuable data used to maximize performance.
The upgrade in class means that the motorcycle's engine is bigger and heavier, and the races are longer, fresh challenges that necessitate changes in the way Osborne trains. Spending most of November and December at his Clermont, Florida training base, he's in the midst of the biggest training load of the year. His arduous three to six-hour daily workouts are spent on the bike at the track, in the gym and riding a bicycle. Osborne's days begin at 7am with yoga and meditation. Before leaving for the track, he does a 25 to 90-minute cardio workout – usually cycling. Osborne also does three gym workouts each week and takes MightySat with him.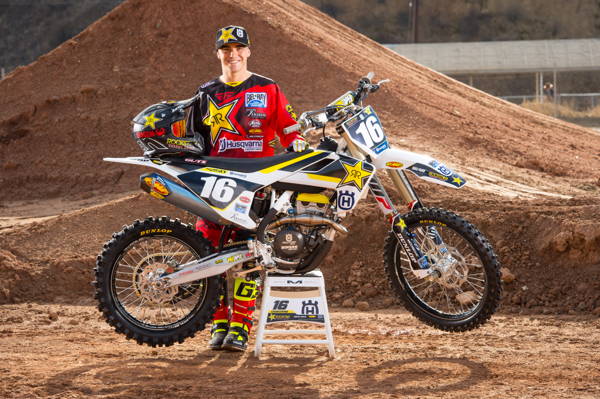 "The MightySat helps me to really keep a close watch on my heart rate in the mornings to be sure I'm recovered from my training. Some of the days get long. MightySat is a huge part of my daily routine even when I'm not riding. It's a very simple way to get some statistics of how your body is really doing without the psychological factor of 'feeling,'" said the 29-year-old Osborne.
MightySat delivers data in an instant after clipping the device onto the fingertip. It measures oxygen saturation, pulse rate, respiration rate, blood perfusion (strength of blood flow) and pleth variability index, which may indicate changes in hydration, breathing effort, perfusion or other factors.*1-3
"MightySat is the first thing I reach for when I wake up every morning and typically the last thing I touch before bed. I use it to gauge my resting heart rate as well as trying to predict how I'm going to feel the next day using trends and numbers from my oxygen saturation gathered from the past few years," said Osborne, who uses the reliably accurate technology to make training and recovery decisions.
Part of Osborne's preparation has included racing in the 450 class in Europe. "The off-season races I've done this year have gone well for me. They were a good test of my fitness and my bike to refine some things and make sure I am where I need to be going into the US season, which is our main goal."
Osborne continues his final prep for his 450-class debut confidently.
"Obviously with this being my first season on the 450, I want to try to be realistic, but at the same time, I feel like I'm in a good place with my bike and body. I feel like I can really go out and contend for podiums and wins, and just see where it all ends up. I'd love to have a shot at the title when we get to Las Vegas in May."
Osborne is part of a growing list of world champions, Olympians and professional athletes throughout the sports world who rely on the data generated by the noninvasive MightySat. Harnessing the best available technology to measure and gather key data not available on other health and wellness devices, MightySat is for use by anyone who wants to improve their health, wellness or fitness. The data generated by the MightySat and collected by the Masimo Personal Health app can be used to help measure cardiovascular fitness, exertion levels and speed of recovery, the latter of which is made simple with the use of the Heart Rate Recovery calculator, an exclusive feature on the Masimo Personal Health app. The data from MightySat may indicate changes in hydration, breathing, fatigue and stress levels as well as changes caused by altitude. For more information, please visit www.MasimoPersonalHealth.com.
* It is suggested to measure PVi in the same body position, remaining still and without talking, at the same breathing rate and depth of breathing, until you see a high confidence PVi value (displayed value is bright, not dim). An increase in PVi may indicate a decreased level of hydration, increased breathing effort, or other factors. A decrease in PVi may indicate an increased level of hydration, decreased breathing effort, or other factors. Multiple factors other than hydration and breathing effort can affect PVi, including breathing rate, depth of breathing, body position, body movement, vascular tone, blood flow to the finger (perfusion index), normal variation within a short-term monitoring session, waveform shape changes, and/or cardiovascular abnormalities.
1 Schooljans A et al. Acta Anaesth Belg. 2010 (61), 147-150.
2 Mathews D et al. ASA 2014. A1124.
3 Perel A. Anesth Analg. 2014 Dec;119(6):1288-92.