By: Aaron Bible
You know those doohickeys they put on your finger at the hospital to measure your pulse and how much oxygen you are taking in? A group of exercise scientists and athletes came to the realization that these same vital stats are also extremely useful for sports training and fitness, as well as general health and wellness. They've introduced a home pulse oximeter device called the MightySat that simplifies taking vitals while providing a convenient snap shot of your daily fitness.
While not the first battery-powered pulse oximeter available for home use, the manufacturer of the MightySat, Masimo, has patented technology that produces accurate measurements even during cold temperatures (low blood flow) and movement. Five parallel signal processors make up the brand's Signal Extraction Technology, delivering what the company calls the most accurate measurements on the market. This is in the face of the popularity of wearables and other "quantified-self" devices such as FitBit, some of which can be as much as 30 percent off at any time.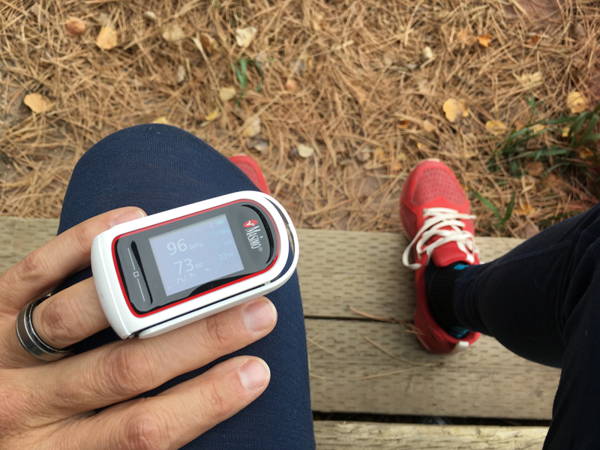 I personally was always curious about how these little fingertip devices measure all of those vitals. By measuring light absorption in your fingertip, and unlike most wearables, the Masimo MightySat measures oxygen saturation (SpO2) and pulse (PR), as well as respiration rate (RRp), perfusion index (PI), and pleth variability index (PVi).
In testing the MightySat over the last month, I've found it a convenient way to keep an accurate picture of my pulse rate throughout the days — a common baseline for fitness and recovery. Not only have I used it daily after my workouts, but when my wife was sick for two weeks, just like in the ER, it's a super easy way to measure respirations, pulse, and get a scientific snapshot of overall health through oxygen saturation and PVi.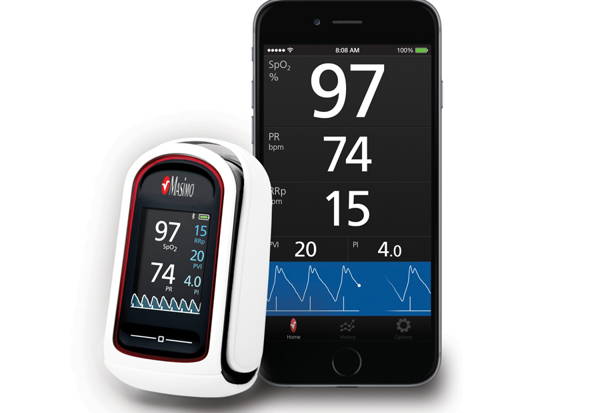 Smartphone not included…but this is what the app looks like.
To bear out its concept, Masimo has a handful of professional athletes on the product testing and development team, including seven-time national champion in women's pro cycling, two-time Pan-American Gold medalist, 2012 Olympic Silver medalist in women's pursuit, and former world record holder in women's team pursuit on the track, Dotsie Bausch, who is working with the brand not only in her own training but on the potential of new parameters they could add to the device.
"I began using a pulse oximeter as part of my Olympic training and recovery regimen back in 2010," she said, before hospital-grade, wireless devices were available to the public. "By tracking my oxygenation and pulse rate – along with numerous other biophysical and behavioral metrics – I use data to measure and improve my athletic performance and gauge my recovery."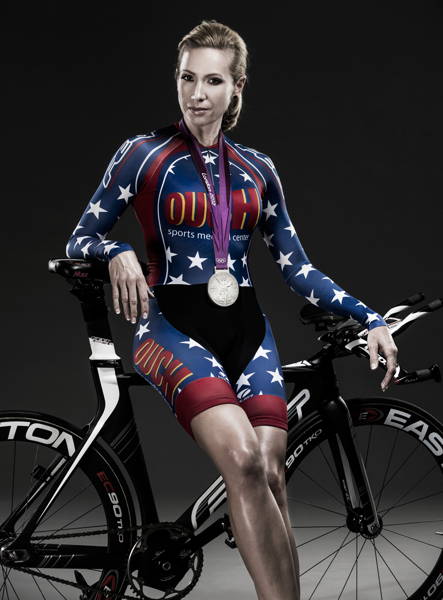 Olympic cyclist Dostie Bausch
Now, with Bluetooth and the downloadable, free app, the technology is available to everyone from recreational ultra-runners to high-altitude mountaineers, and every outdoor athlete in between, even washed up ones like myself who still like to stay in shape for the occasional mountain epic or citizens race.
The company is especially interested in helping alpine climbing teams who's doctors have traditionally relied on intuition and taking vitals in the traditional ways — in part because the technology wasn't available until recently. Vitals such as Perfusion Index lets team doctors and medics, especially, for example, in base camps where daily pushes are being made to achieve higher and higher elevations on a peak, know, in layman's terms, how much blood is pumping to fingers and toes (peripherals). Additionally, the Pleth Variability Index is used in athletes and for wellness as an indicator of stress, hydration and fatigue and is part of an overall recovery picture that helps you look deeper at things, according to Bausch.
Respiration rate is another feature of the Mighty Sat that takes a lot of the guess work out of recovery and monitoring the vital signs of an athlete. There was nothing currently on the market that quantifies your breathing rate, Bausch explained, "This is pretty remarkable for athletes for a couple different reasons. It allows athletes to monitor over time their breath rate, and can be checked to see how quickly you're coming down to your baseline. People who work in quick sets, they're using it as a tool to quantify their ability to calm down between sets."
"It would be an extraordinary advantage to extreme climbers and hikers to be able to measure O2 sats and respiration rate at critical times while acclimatizing," Bausch said. "A climber and his or her doctor are able to make important decisions about the body's response to the altitude gains and how quickly they may proceed. The information from the MightySat could potentially save a life, considering how important O2 sats are for lung function and breathing."
And with the downloadable app, of course now trainers, doctors, athletes — even mountain athletes and weekend warriors — have the ability to store, sort and analyze data in a meaningful and convenient way over time. It's about the size of a staple remover and runs off two AAA batteries, and turns on and off automatically. Even a technophobe like me, although admittedly I'm a former EMT and can kind of get in to hospital-grade technology like this, can use and understand this product and the value it provides during high exertion and training, if only the most basic level.
Source: www.gearinstitute.com