Harnessing the data from his Masimo MightySat pulse oximeter, the champion swam his way onto Team USA for the Pan Pacific Swimming Championships and world championships.
At the Phillips 66 National Championships held the last week of July, 19-year-old Michael Andrew delivered a series of dominating swims that resulted in four U.S. titles, a performance so remarkable by an American male that it has been eclipsed only once by none other than Michael Phelps, who won five titles in 2008. In Andrew's toolbox before and after each session was his Masimo MightySat pulse oximeter on which he relies to accurately monitor his oxygen saturation.
The youngest swimmer ever to turn pro at age 14, Andrew has always forged his own unique path, especially when it comes to his training program, which he describes as "very data driven." He began incorporating MightySat into his training and recovery protocol early last year, his final season as a junior during which he set three world records and won three world championship gold medals. His performance at the Woollett Aquatics Center in Irvine in the shadow of Masimo's headquarters produced championships in the 50-meter butterfly (22.93), 50-meter breaststroke (setting a new U.S. Open record of 26.86), 100-meter breast (59.38) and 50-meter freestyle (21.49), qualifying Andrew for his first-ever world championships in long-course events as well as earning a spot at the Pan Pacific Swimming Championships taking place in Tokyo from August 9-12.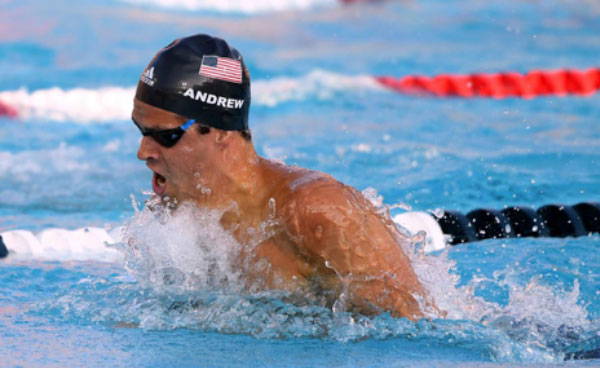 "I feel great heading into Kona. I have had an entire season of consistent training without setbacks, so I've been able to progress to where I'm at now. I am healthy and fit, and I feel mentally ready for what's ahead after having raced this race the last three years," said Jackson who won IRONMAN Lake Placid in July, IRONMAN 70.3 Chattanooga in May and the Wildflower Triathlon for the fourth time in April.
Jackson uses the MightySat multiple times throughout the day to measure oxygen saturation, pulse rate, respiration rate, blood perfusion and pleth variability index. Starting with a measurement first thing in the morning, the noninvasive fingertip technology helps Jackson know when she is recovered and ready to push it hard in training, when to dial down the volume and intensity of her planned workout and when to rest. Used by a growing stable of professional, world champion and Olympic athletes across the sports spectrum, Jackson believes MightySat is the perfect device for triathletes.
"I think the MightySat is extremely beneficial for triathletes given the load of three different sports we have to train for. It can be difficult to distinguish when to rest or if you are just mentally fatigued and could actually complete your planned daily training sessions. In triathlon, it's about building up that training load, so some days, you are meant to push through those tired feelings and still get out the door to train. Eight hours into an IRONMAN, that is what you have to do. Other days, your body is physically on the verge of breaking down and it truly needs a rest day. Honestly, I can't think of another sport that the MightySat could be more beneficial for," said Jackson who has been training with MightySat for 2-1/2 years.
The Bend, Oregon-based athlete arrived in Kona after a training block in Tucson where she began acclimatizing to the typically oppressive conditions that await race competitors on the island. She also tried something a little different. "I had an awesome Kona prep in Tucson with my husband, Wattie, as well as a couple of training friends. This was a first for me – to have others around me for training – but I think it was huge for me, primarily for my swim training."
Jackson says the numbers she's seeing on the MightySat look typical of a difficult training period. "My MightySat numbers are sitting around where they usually do at the end of a hard month of training. My oxygen saturation varies a percentage each morning but has been hovering around 95% or 96%. Following a super-light day, I have woken up to a 97% here and there. I expect that in the remaining time before the race as I taper and rest, my oxygen saturation will rise to 98%, 99% and, hopefully, 100% by race day. My heartrate has been interesting to follow during my time in Tucson. It consistently read higher than normal during the first week to 10 days as I acclimated to the heat, which I've done over the last six weeks."
She expects to see a boost in her oxygen saturation caused by coming down from altitude to sea level, something Jackson will monitor on the MightySat.
"The MightySat confirms that my body is ready. My heartrate stays normal when we get over to Kona," said Jackson who feels confident entering the championship race. "Confidence comes from what you are able to show yourself that you can do in training sessions or in races earlier in the year. Every session I complete is about pushing myself just a little bit more and seeing what I am capable of. You can take those numbers, or times, or overall training sessions and go into a race confident in what you've already proven to yourself you can do. Having said that, I feel confident coming into this race, that I am more prepared than I have been the last three Kona's. I've had some key training sessions and major races that have taught me so many new lessons about racing this sport."
Utilizing the best available technology to reliably measure and gather key data not available on other health and wellness devices, MightySat is for use by anyone wanting to improve their health, wellness or fitness. The data generated by the MightySat and collected by the Masimo Personal Health app can be used to help measure cardiovascular fitness, exertion levels and speed of recovery, the latter of which is made simple with the use of the Heart Rate Recovery calculator, an exclusive feature on the Masimo Personal Health app. The MightySat may detect changes in hydration, breathing, fatigue and stress levels as well as changes caused by altitude.
For more information, please visit www.MasimoPersonalHealth.com.