Like you, our MightySat athlete ambassadors are in it to win it.
These professional athletes and Olympians – past and future – are champions, driven to excel in their respective sport as well as in life. Their competitive spirit helps fuel our own fire, inspiring us to train harder, smarter, and empowered to use better data along the path to achieve victories large and small. Whether you are an elite athlete preparing for an IRONMAN, a new swimmer entering the pool for exercise or someone determined to conquer the workout of the day, we hope that you will find inspiration – and perhaps some ideas – from our athletes who share their 2019 goals with you.
Triathlete Michael Weiss had perhaps his best year as a pro in 2018 when he won a handful of IRONMAN and IRONMAN 70.3 events, including achieving victory on his native soil in his seventh attempt at IRONMAN Austria. "After finally making the Ironman World Championship Top 10 in 2018, my goal is to improve my Kona ranking to a Top 5," said Weiss, who is also resolute about making changes to his diet and nutrition this year. "On the personal side, I'm striving for eating an even more vegan diet than last year. Fortunately, my girlfriend runs a vegan catering business, which is hard to resist as she spoils me with healthy treats. I was not aware of what a major difference a plant-based diet can make for an athlete! I simply feel healthier and perform much better as last season's results clearly show."
Another IRONMAN champion, Heather Jackson rocked 2018 by racking up wins at IRONMAN Lake Placid and IRONMAN Arizona as well as at Wildflower Experience and IRONMAN Chattanooga 70.3. She's striving to continue her sporting success while working on a few personal goals. "My goals for 2019 are similar to the past few years. My main focus is on performing as best I can at the IRONMAN World Championships in October. Prior to that race, I'm focused on getting back to short and fast racing, concentrating on the Olympic distance and half-IRONMAN distances. More personal goals include being more present in the moment and enjoying every second of every day as well as spending more time with family and friends outside."
Sticking with the multisport theme, a pair of CrossFit champion Ben Stoneberg's focus events for 2019 come early in the year. "My goal for 2019 is to qualify for the CrossFit Games or at least to a sanctioned event. I'll be doing a qualifier coming up in February for a sanctioned event in Iceland. Then, the CrossFit Open will start at the end of February. Both give me an opportunity to qualify to the Games."
Winning USA Swimming's Golden Goggles Award as Breakout Performer of the Year in 2018, Michael Andrew signaled his arrival to the world during his first year competing in the senior ranks. He continued his march to 2020 Olympic selection by winning four US National Championship titles in August, punching his ticket to the 2018 Pan Pacific Championships where he won gold in the 50-meter freestyle. His performance at nationals also earned him the right to swim at this year's world championships. "I have many goals for 2019. The one that I feel is the biggest and broadest goal, which will ultimately help me achieve all my goals, is to be professional in every sense of the word. For me, that looks like sticking to the schedule and plan I have set with my coach and team. Being devoted to my diet and the recovery that is necessary for my body to perform at its best day in, day out. To work so incredibly smart and hard towards the detailed goals of the season so that when I stand on the blocks at the moment that matters most, I can stand confident in my preparation."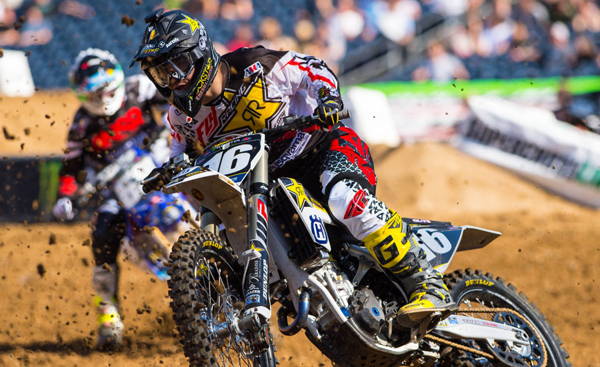 Moto/supercross champion Zach Osborne missed out on competing for a record fourth consecutive title when a nasty crash ended his final season competing in the 250 class prematurely last June. After recovering from shoulder surgery, Osborne remounted to prepare for his first year in the 450 class. However, another crash and another surgery has delayed the start of his 2019 season. But his enthusiasm remains undiminished. "My goals for 2019 are to continue to improve on being my best self! I know that sounds cliché, but I've been on an upswing for a few years and I hope to continue that by basing my goals off of bettering myself and not comparing results, views, etc. to others!"
Big life changes are ahead this year for FIVB World Championship silver medalist and US Olympic beach volleyball player Lauren Fendrick, who is expecting to give birth to her first child, a daughter, in May. "My goals for 2019 are to have a healthy pregnancy and birth, be a good mom, be back competing as soon as I can and to compete in as many Olympic qualification tournaments this year as I can! I have an amazing support team that is committed to helping me work toward achieving these goals."
Masimo MightySat is proud to support these exceptional individuals in 2019 – in and out of competition.