The American champion who utilizes data from the Masimo MightySat® pulse oximeter wins the 50-meter freestyle on one of swimming's grandest stages.
IRVINE (22 August 2018): It's a quick dash from one end of the pool to the other and very few athletes in the world can cover the 50 meters in less than 22 seconds. 19-year-old Michael Andrew exploded off the blocks on the closing day of the Pan Pacific Swimming Championships in Tokyo racing in the lane next to his heavily-favored American teammate and rival Caeleb Dressel. When Andrew arrived at the other end of the pool in the freestyle swim in a lifetime best 21.46 – .03 seconds faster than he swam at last month's U.S. national championships and .02 seconds from the Pan Pac record – he won his first international gold medal at the senior level, taking another major step towards realizing his Olympic dream. By his side each step of the way is his Masimo MightySat pulse oximeter, which Andrew uses when training, recovering and competing.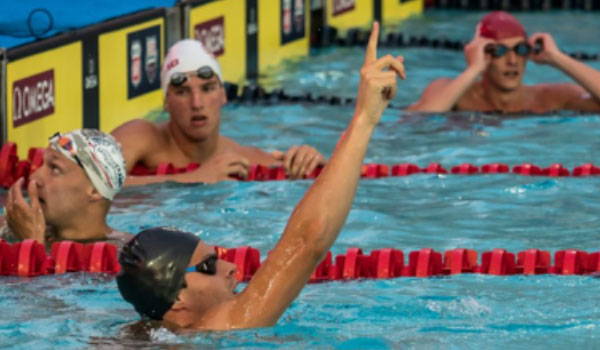 After winning four Phillips 66 National Championships in Irvine last month, earning berths on the U.S. contingent swimming at Pan Pacs and at next year's world championships, Andrew spent five days at USA Swimming's staging camp in nearby Dana Point where they prepared for Pan Pacs, which are held every four years. Andrew's training was rigorous during the first three days. His MightySat oxygen saturation (SpO2) readings were consistently at 98% and 99% but dropped after he swam a 200 medley. When decamping and jetting to Tokyo, his SpO2 dipped slightly to 97%.
"I use my MightySat a lot for training, but when the numbers start going down, I sometimes leave it alone so that I don't see anything negative that may get into my head. I checked my SpO2 periodically, but I decided to focus 100% on swimming in an attempt to minimize the adverse effects of the stress of such an important international competition and the jetlag," said Andrew. "Pan Pacs is huge. I didn't feel quite as on my game or as great as I felt at nationals yet to still go best times is huge."
After breaking over 100 junior and age-group records, Andrew, who is respected for his short course global dominance, aged up to deliver under pressure at Pan Pacs and U.S. nationals, the latter being where he won the 50-meter butterfly, 50-meter breaststroke, 100-meter breast and 50-meter free. In his first international A team long course competition at Pan Pacs, which ranks just below the Olympics and world championships in terms of importance, Andrew swam the 50-meter free, 100 breast and 100 fly. When he swam the 100-meter backstroke in 53.5, he surprised by registering the fourth fastest American time this year, the 12th fastest in the world. Along with his gold medal, Andrew brought home a Pan Pacs bronze medal in the mixed medley relay, which took place on the opening day.
Andrew will next compete at World Cup events, but the pressure diminishes until next July's World Aquatics Championships in South Korea.
In addition to monitoring oxygen saturation, Andrew clips the noninvasive MightySat onto his fingertip to accurately measure pulse rate (PR), respiration rate (RRp), perfusion index (Pi) and pleth variability index (PVi). He is part of the growing roster of professional athletes, world champions and Olympians throughout the sports world using the quick and easy-to-use hospital-grade technology in their training protocol. The data generated by the MightySat and collected by the Masimo Personal Health app can be used to help measure cardiovascular fitness, exertion levels and speed of recovery, the latter of which is made simple with the use of the Heart Rate Recovery calculator, an exclusive feature on the Masimo Personal Health app. The MightySat may detect changes in hydration, breathing, fatigue and stress levels as well as changes caused by altitude. Athletes and their coaches use the data to make informed decisions about training and recovery, thus know when they are ready to go all out, reduce training load or intensity, or take a rest day.
Utilizing the best available technology to reliably measure and gather key data not available on other health and wellness devices, MightySat is for use by anyone wanting to improve their health, wellness or fitness. For more information, please visit www.MasimoPersonalHealth.com.