For the first time in freediving history, Masimo (NASDAQ: MASI), maker of breakthrough Measure-through Motion and Low PerfusionTM pulse oximetry, has equipped the Suunto Vertical Blue freediving competition with consumer versions of MightySat® fingertip pulse oximeters. Dr. Stig Severinsen (left) demonstrates Masimo's MightySat fingertip pulse oximeter with the 2015 Vertical Blue freediving safety team.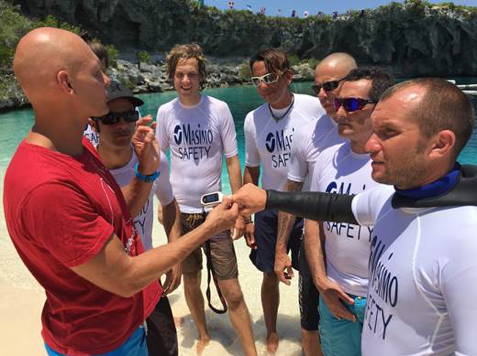 Vertical Blue, dubbed "the Wimbledon of freediving" by the New York Times, runs April 27-May 7. The elite event is held each year at Dean's Blue Hole, Long Island, Bahamas – the world's deepest known underwater sinkhole at 663 feet. This year 24 freedivers from 13 countries will take the plunge in three different disciplines: constant weight (CWT), free immersion (FIM) and constant no-fins (CNF).
Before dives, freedivers typically prepare with physical, mental and breath-holding exercises to slow their metabolism, heart rate, breath rate, and the level of carbon dioxide in their bloodstream. Despite these precautions, freedivers risk shallow- and deep-water blackouts. At Vertical Blue, all competitors will be under supervision of a safety team, sponsored by Masimo.
Additionally, Dr. Stig Severinsen, four-time freediving world champion and holder of the Guinness Book of World Records for an underwater breath hold (22 minutes), will monitor blood oxygenation, pulse rate and other parameters throughout the 10-day competition using a MightySat. Severinsen's monitoring will advance the understanding of what event organizers call one of the world's fastest-growing sports.
"The monitoring of these world-class athletes with this new state-of-the-art device should hopefully yield information to be used for improved training and competition protocols," Severinsen said. "The wireless MightySat from Masimo contains advanced technology to deliver reliable, noninvasive measurements on oxygen saturation levels and pulse rate, making it easy to sample and store data even under extreme conditions, such as high and low temperatures and during states of low perfusion."
"Vertical Blue is looking forward to collaborating this year with Masimo, as part of our efforts to be more informed as to the fascinating physiological changes that occur during deep breath-hold dives," said William Trubridge, 15-time freediving champion and founder of Vertical Blue. "Using Masimo equipment, we can collect more data and monitor our athletes throughout the event, with very simple and noninvasive protocols. We're looking forward to seeing the results!"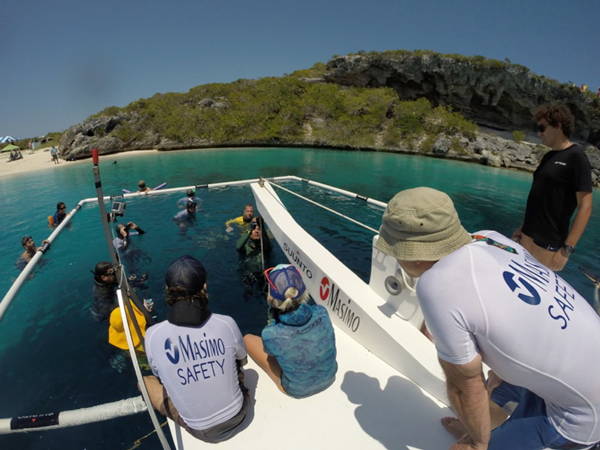 At Vertical Blue, all competitive freedivers will be under supervision of a safety team, sponsored by Masimo.
MightySat is available in three versions – each provides oxygen saturation (SpO2), pulse rate (PR), and perfusion index (PI) measurements in a compact, battery-powered design with a large color screen that can be rotated for real-time display of the pleth waveform as well as measurements. Features include:
Signal I.Q.® to assess measurement confidence
Rugged, lightweight design for operation in challenging environments
Long battery life–up to 15 hours with two standard AAA alkaline batteries
Optional Bluetooth LE wireless functionality enables measurement display via a free, downloadable app on iOS and Android mobile devices as well as the ability to trend and communicate measurements
Optional PV

i

version for those who want to use their pulse oximeter to evaluate another physiologic dimension. MightySat is the only fingertip pulse oximeter available with Pleth Variability Index (PV

i

) measurement. (PV

i

is a measure of the dynamic changes in the perfusion index (PI) that occur during the respiratory cycle.)
Two year limited warranty
REFERENCES
Reference 1 iData Research. U.S. Market for Patient Monitoring Equipment. 2014.
ABOUT MASIMO
Masimo is a publicly traded company (NASDAQ: MASI) based in Irvine, California. Masimo is the leading brand of hospital pulse oximetersReference1 because they provide accurate measurements when other pulse oximeters fail by using a revolutionary, patented invention called Signal Extraction Technology® open paren (SET®)close paren. Masimo SET® uses five parallel signal processing engines that measure through challenging conditions, including movement and low blood flow. With MightySat, the same high-performing Masimo SET® technology is now available for general wellness and health applications.
Reference1 iData Research. U.S. Market for Patient Monitoring Equipment. 2014.
MEDIA CONTACTS
Evan Lamb
Masimo
Phone: (949) 396-3376
Email: elamb@masimo.com