n keeping with its commitment to excellence and innovation, Masimo (NASDAQ: MASI) today announced the debut of the iSpO2TM pulse oximeter cable and sensor with Measure-Through Motion and Low Perfusion Masimo SET® technology for use with iPhone, iPad or iPod touch with 30-pin connector.
iSpO2TM uses the same technology found in Masimo's breakthrough line of pulse oximeters and Pulse CO-OximetersTM – the standard-of-care pulse oximetry technology at work in leading hospitals around the world – providing accurate measurements, even during the challenging conditions of motion and low perfusion.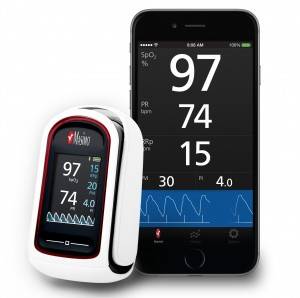 Masimo iSpO2TM pulse oximetry cable and sensor (available at masimopersonalhealth.com/) is compatible with the iPhone, iPad, or iPod touch
Customers can purchase the iSpO2TM Signal Extraction Pulse Oximeter and use their iPhone, iPad or iPod touch to check their own blood oxygenation (SpO2), pulse rate, and perfusion index measurements for sports and aviation use and is not intended for medical use.
After purchasing the iSpO2TM (available at masimopersonalhealth.com/shop/ and Amazon) and connecting it to an iPhone, iPad or iPod touch, the iSpO2TM application will automatically download. Thereafter, using the iSpO2TM is easy as 1-2-3:
Connect the iSpO2TM cable to your iPhone, iPad or iPod touch
Slip the iSpO2TM sensor on your ring finger
Your results appear on screen
The iSpO2TM Medical, the professional version for medical use, is pending CE Mark and U.S. FDA 510(k) clearance. This product will be made available through Masimo's existing distribution channels.
"Masimo was founded on a mission to take noninvasive monitoring to new sites and applications," said Masimo founder and CEO Joe Kiani. "The iSpO2TM for iPhone, iPad or iPod touch with 30-pin connector represents our first consumer product and should create myriad new possibilities with the goal of further empowering people."
Please visit masimopersonalhealth.com/shop/ for purchasing information.
About Masimo
Masimo is a publicly traded company (NASDAQ: MASI) based in Irvine, California. Masimo is the leading brand of hospital pulse oximeters Reference 1 because they provide accurate measurements when other pulse oximeters fail by using a revolutionary, patented invention called Signal Extraction Technology® (SET®). Masimo SET® uses five parallel signal processing engines that measure through challenging conditions, including movement and low blood flow. With MightySat, the same high-performing Masimo SET® technology is now available for general wellness and health applications.
Reference 1 iData Research. U.S. Market for Patient Monitoring Equipment. 2014.