Masimo just came out with their latest MightySat fingertip pulse oximeter, which is targed towards anyone interested in measuring their oxygen levels on the fly. The tiny device is a marvel of technology considering it's size, and is perfect for athletes, as well as those looking for relaxation or general wellness. To date, these type of devices have been larger in size and only available to elite athletes. The Masimo MightSat ushers in a new level of medical measuring devices available to anyone.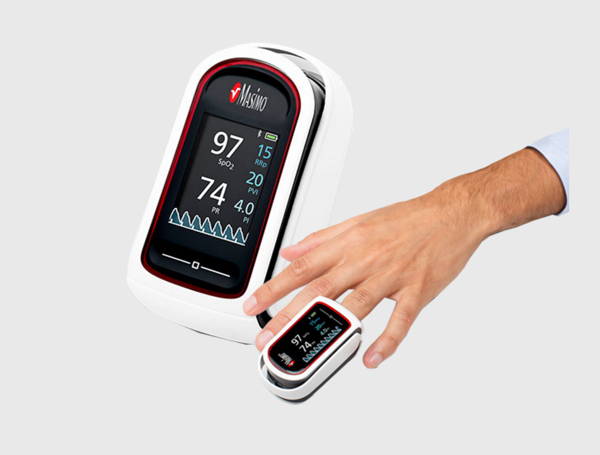 Masimo MightySat- How it Works
The MightySat is technically called an oximeter. Historically, respiration rates (number of breaths per minute) could only be measured manually….actually counting breaths…or with a chest strap…all of which were conducted by a health professional. No more! With the Masimo MightySat fingertip pulse oximeter, you can accurately measure oxygen levels quickly and easily. Additionally with the MightySat, you can measure arterial oxygen saturation (SpO2), pulse rate (PR), perfusion index (PI), and Plethysmograph Variability Index (PVi®).
Performance
Using it is a snap. Just place it on your finger, wait a minute, and measurements will begin populating on the multi-color LCD display. The Masimo MightySat, based on our laymen's test, is very accurate as well, thanks to its Signal Extraction Technology (SET), which provides gauges not available on other fingertip pulse oximeters. The Masimo also features Bluetooth wireless interface to the Masimo Personal Health and Apple Health App. With it, you can track, trend and communicate measurements. This is especially important for elite athletes to assess and improve performance. Here are what some athletes had to say:
"The addition of respiration rate to the MightySat is a game changer because we can now quantify breathing – a fundamental indicator of health, wellness, and sports performance," stated Olympic Silver Medalist Dotsie Bausch.
"Sometimes matches are won by a few points, and I need every breath to count," said Coco Vandeweghe, Professional Tennis Player on the WTA Tour. "MightySat makes breath tracking easier."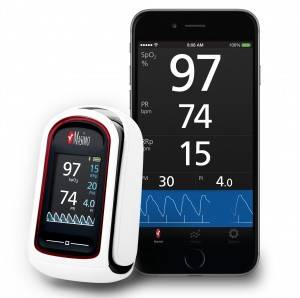 Bottom Line
The Masimo MightySat is a new revolution in sports training and medicine. You can get precise measurements before or after workouts, before bed or first thing in the morning, just by slipping it on your finger. No more visits to the doctor or sports trainer. The device allows you to know more about your body by knowing when to push harder and when to take a break. After all, oximeters are becoming much more common, thanks to the advent and popularity of fitness trackers, and Masimo is trying to appeal to the masses with this unique, but highly accurate and functional device.
If you're an athlete, or interested in wellness, the MightySat is a great device to have in your arsenal. And at $399 (sale price), it's not super cheap, but you definitely get what you pay for with this device…a high-quality device that can be used by anyone. Couple that with its bluetooth technology and the associated app, and you have a comprehensive solution when managing your oxygen levels.
Where to buy
The Masimo MightySat is on sale now for $399, and is available through Masimo's website here.
Source: www.gadgetgram.com