Masimo One of Two Companies (out of 300) to Win Two Awards at 31st
Annual Industry-Leading Emergency Medical Services Event
Masimo (NASDAQ: MASI) announced today that its iSpO2TM pulse oximeter for iPad, iPhone, and iPod touch and EMMATM Emergency Capnometer earned JEMS Hot Product awards. Only two companies received dual Hot Product award honors at the EMS Today 2013 Conference & Exposition, the industry's leading emergency medical services (EMS) event held recently in Washington, D.C.
A dozen judges reviewed and evaluated products that had recently been introduced into the emergency service industry by the more than 300 exhibitors at the EMS Today Conference & Exhibition and rated each of them on originality, functionality, ease of use, and need in the EMS setting. The top 25 products were then selected as the hottest new products shown at EMS Today 2013.
"This year just two companies got two products selected in the top 25 – quite an achievement," said AJ Heightman, editor-in-chief of JEMS. "We have had very few double winners in the past."
The EMMA Mainstream Capnometer measures, displays, and monitors respiratory rate and end-tidal carbon dioxide (EtCO2TM) continuously when connected to a patient's breathing circuit. EMMA's portability allows for use during cardiopulmonary resuscitation (CPR) and intubation in multiple points of care including pre-hospital, rapid response, emergency medicine, operating room, intensive care unit, and long-term acute care. Because EMMA is integrated into the breathing circuit for easy viewing during CPR and endotracheal tube placement, it is highly accessible during transport and/or emergency ventilation scenarios—allowing quick assessment in just a few seconds.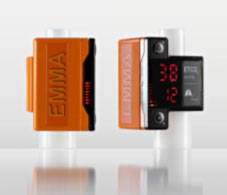 iSpO2® for Android provides oxygen saturation (SpO2), pulse rate (PR), and perfusion index (PI).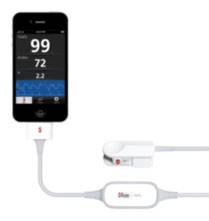 Masimo iSpO2TM pulse oximetry cable and sensor (available at masimopersonalhealth.com) is compatible with the iPhone, iPad, or iPod touch.
The Masimo iSpO2™ is a consumer pulse oximeter utilizing Masimo SET® technology – the same technology used in leading hospitals worldwide, providing accurate measurements even during the challenging conditions of motion and low perfusion – for use with iPhone, iPad or iPod touch with 30-pin connector to noninvasively measure blood oxygenation, pulse rate and perfusion index. iSpO2 is for short-term sports and aviation use and is not intended for medical use.
"We are honored that our iSpO2 pulse oximeter and EMMA capnometer received two prestigious JEMS Hot Products Awards at EMS Today, the preeminent conference and exhibition for the emergency services industry," said Jon Coleman, Masimo President of Worldwide Sales and Marketing and Clinical Research. "Masimo has always been committed to taking monitoring technologies to new sites and applications, and we're equally committed to launching more award-winning products."
About Masimo
Masimo is a publicly traded company (NASDAQ: MASI) based in Irvine, California. Masimo is the leading brand of hospital pulse oximeters Reference 1because they provide accurate measurements when other pulse oximeters fail by using a revolutionary, patented invention called Signal Extraction Technology® (SET®). Masimo SET® uses five parallel signal processing engines that measure through challenging conditions, including movement and low blood flow. With MightySat, the same high-performing Masimo SET® technology is now available for general wellness and health applications.
Reference 1 iData Research. U.S. Market for Patient Monitoring Equipment. 2014.