The last two years have brought about many changes in my life. In addition to being a full time professional Ironman Athlete, last year I began coaching fellow Masimo ambassador, Heather Jackson, and, earlier this year, I became a father.
Being a Dad is the most fulfilling experience that I have ever had but it has also come with some challenges, the most obvious one being lack of sleep. Trying to keep a regular training schedule heading into the 2017 season was near impossible and, as a result, I have had to be more flexible with my time. The last thing I want to do is over-train when I'm fatigued. Monitoring my data both morning and night using the MightySat has been crucial to keeping me healthy and injury free while still increasing my fitness to be ready to race at the top level.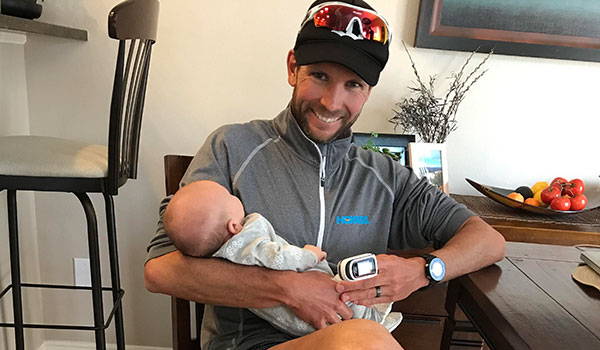 For the first few weeks of fatherhood, my adrenaline levels were so high that I actually saw improvements in my training but this could only last so long. As my fatigue started to set in, my oxygen saturation levels dropped 3% below my average. Knowing this important information allowed me to schedule in 3-4 aerobic recovery days which allowed my body to recuperate. I was then able to return to normal training intensity.
After having some time with the MightySat, I am excited to now incorporate information from this device as a coaching tool with Heather Jackson. After Heather's recent win at Ironman 70.3 Peru, she will come to train with me in Colorado for the 6 weeks leading into her first full distance event and Hawaii Ironman qualifier, Ironman Boulder. This will be Heather's first major event racing at altitude (5400ft). It is crucial that her body adapts to the greater stress high altitude training and racing places on her.
Using the MightySat app and syncing Heather's data with Training Peaks allows me to closely monitor her recovery status and constantly tweak her training to make sure that she is getting the right combination of training and recovery. The aim is obviously to get her to the start line fit, healthy and ready to race for the win.
Check back after June 11th for my next blog which will detail how it all went!