Heather Jackson is strong. She is a strong cyclist, a strong runner, she has a strong mind and she is the keeper of a very strong heart, both literally and figuratively.
I first met Heather in 2009 (holy smokes 10 years have passed) at the United States National Track Cycling Championships. Heather was a newbie to cycling. She had graduated from Princeton University a few years prior and left behind an ice hockey passion and potential career because she didn't feel ice hockey "would take her anywhere" post college. Heather was seemingly quiet, somewhat shy but friendly and as I mentioned, very, very strong on the bike. Although she didn't have much finesse on the track she made up for it in pure grit and determination. Heather continued track cycling into 2010 but eventually found her true love in the sport of triathlon by early 2011 and she would never look back.
Today, Heather is a threat every time she lines up. She is America's best hope for a top step on the podium over the next few years at the Ironman World Championships in Kona, Hawaii and if the sheer will and determination Heather exudes has anything to do with her final results in Kona, she will, no doubt, climb onto that top step victorious. I caught up with Heather in the midst of her spring training while driving for 2 days out of the "snowmageddon" of Bend, Oregon to Arizona for a warmer, drier climate to train in. I wanted to ask Heather some unconventional questions so we could all get to the bottom of how she stays so strong in mind, body and spirit.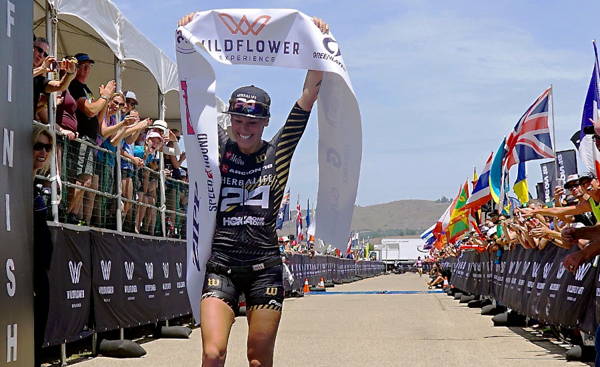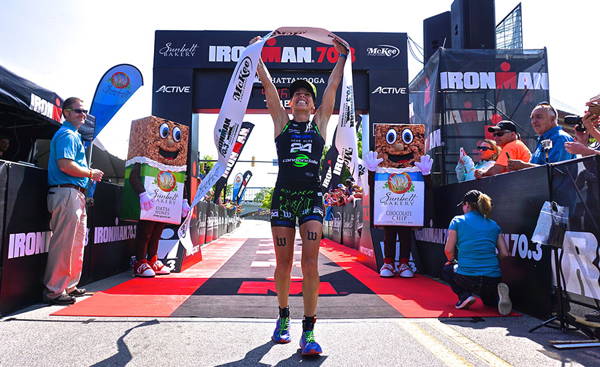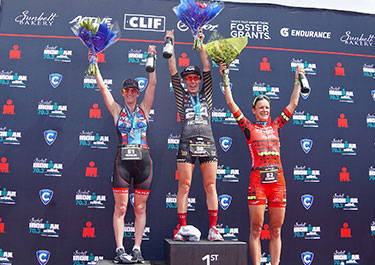 1. What is your greatest strength and why?
I think my greatest strength is in my head. I'm not necessarily the strongest or the fastest naturally but I am mentally able to push hard in training and races beyond what my natural abilities might suggest. I'm super competitive and want to win at anything I do… so therefore, I never give up and so you can never count me out. Ever.
2. Describe a situation where you had to make a quick decision in a race and what did you learn from that experience?
Usually for me, being a weaker swimmer but a stronger cyclist, I come out further back out of the water and have a gap to make up on the bike. The usual decision I have to make is when to start to "go for it" or apply pressure to close that gap. Through years of experience now, I've been able to hone in on when it's time to go. I used to just go from the gun- the second I would get out of the water and have 6-8 minutes to make up on the bike. Fortunately, that gap has come down to a typical 3-4 minutes down and I can be calculated in my own personal race strategy. It took me years to learn that though, as there were many races I went too hard on the bike and was walking the run portion following. Now I've been able to manage my bike and the run off.
3. How do you handle stress and pressure?
My biggest tip for stress and pressure is to just pretend it's another training day. It's just like any other day you would get up and go about your training routine…. DO NOT think about anything else…. do not think about results, sponsors, friends and family expecting results, or yourself expecting a certain result. NO EXPECTATIONS. Just go out to train for the day…
4. If I called your coach right now and asked him or her what is an area that you could improve on, what would he or she say?
Oh good one! I think he would probably say sticking to the exact plan that he gives me. Sometimes I go way over the amount/length of training he prescribes, and I'm sure he just shakes his head and wonders why. There are also times when it's the other way too… I'll do half of what he gives if I'm super tired. I think we have a really good working relationship of knowing when to push it or not… so I don't get in trouble too much:) But the biggest thing is probably doing more than prescribed. Sorry Joe (Gambles)!
5. What excites you most about your career as an athlete?
I guess what excites me most right now is that I have a few key years left. I think the journey of an athlete can be so crazy and tumultuous! The first years you get into a sport and you don't know anything, you are just going as hard as you can 100% of the time all day, every day. Then you learn more about yourself and the sport and can hone in on just what you need. This is when you can really look to get the most out of yourself as a person and an athlete. Fingers crossed that this happens when biologically you can hit your peak. I don't think it's sustainable physically or mentally… well that's proven… to be a high level athlete your whole life. For me, I guess I'm most excited that I feel I know the sport of triathlon now and I've got a good few years left to give everything I have before a new focus. It's almost like hitting maturity again as a teenager where you have the mental capability to make decisions on how you want your career to close its second half…. It's scary but also exciting. It can bring more motivation and new approaches to things within the overall journey.
6. What is your most favorite aspect of the Masimo MightySat?
Oh wow- so many favorite aspects of my MightySat! I guess the biggest thing is just how easy it is to use and to travel with. I can literally check in on how I'm doing internally so easily and at any time of the day and anywhere I travel. It's like a second coach telling me I'm still tired or need to sleep more… or how altitude is affecting me…It's just so small, convenient and easy-to-use and it's basically like having a second coach with me at all times.