Garrett Kenyon, Professional Distance Runner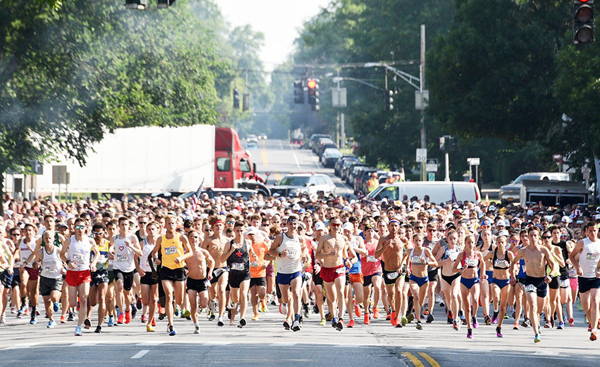 1. What is your greatest strength and why?

Persistence. My career in running has been anything but conventional. I believe that by not giving into the typical mold of a professional runner has set me apart and will pay off in the future.
2. Describe a situation where you had to make a quick decision in a race and what did you learn from that experience?
There comes a time in the race where you decide to commit or float, for lack of a better term. It's a conscious decision that requires trusting your gut and just going for it. In most races there is this time where it turns from a fast paced workout to a race. You have to be ready at all times for when the pack goes or you want to take the lead and turn it into a race. After years of racing you get better at knowing when and how to start to race. It's a lesson of patience and experience.
3. How do you handle stress and pressure?
Stress is inevitable. Many people try to avoid it, me included, but my Coach and I try different tactics by putting myself in a state of constant stress to see how I adapt and in a sense neutralize the way I react to stress. Traveling the past two years, racing almost every weekend, staying in a new home every other day and driving countless miles across the country forces you to adapt, learn, fail and grow. Pressure is a good thing to push you in training. As long as it's pressure on yourself and not living up to my potential rather than comparing myself to other athletes and their successes. I am me, and I can only be better than myself and that pressure makes me the athlete I am today.
4. If I called your coach right now and asked him or her what is an area that you could improve on, what would he or she say?
Emotions. I think every human has emotional decisions that aren't lined up with logic. This can lead to injuries and mental breaks all of which I have experienced. My Coach and I work on my ability to control my emotions and make logical decisions when it comes to training, racing and living. This is something we are constantly working on.
5. What excites you most about your career as an athlete?
The potential that my Coach and I believe I have. We are constantly breaking new barriers in training and when it translates to a race, that's what I'm most excited for. A lot of patience and consistency is going to lead to showing the world what Garrett Kenyon is capable of.
6. What is your most favorite aspect of the Masimo MightySat?
The MightySat is my favorite tool for seeing how I'm adapting to stress. From seeing the O2 sat to the Pleth Variability, I'm in control of my training and it helps me make logical decisions over emotional ones. My favorite part is Pleth Variability because it helps me see how my hydration is and keeps me in check to have optimal training.