In case you didn't already know… flying to China from the US is no joke. A few weeks ago FIVB held a 3 star event in Qinzhou, China. I'm still not exactly sure where that is… I just know it took me over 36 hours to get there. I was toast. Thankfully, Summer and I won the bronze medal, which made the trip totally worth it! During my 36 hours of travel I wanted to keep track of how my body was responding to the long flights. I brought my MightySat along and checked my numbers starting from the night before I took off until the night before my first match. I'm mostly concerned with my SpO2 number or my oxygen saturation rate. It tells me how well oxygen is flowing throughout my body. Ideally I'd like to see this number be somewhere between 97-100. 100 would be best case scenario! My 36 hours of travel and days leading up to my first match looked like this:
Estero, Florida. I took this reading in bed the night before my journey to China began. I was pretty happy with these numbers – I had just flown from California to Florida the day before after a long week of practices and lifting. My first flight tomorrow is 2 and a half hours from Ft.. Myers to Dallas.
Estero, Florida. 2 hours until my first leg of the trip – Ft. Myers to Dallas. Not much has changed since last night. I'm expecting my SpO2 to drop by the time I get to China.
DFW, Dallas, Texas. I took this reading right before boarding my flight 14 hour flight from Dallas to Beijing. Surprised I'm up to 99 but I'm pretty happy about it. I think this next flight is going to be pretty grueling.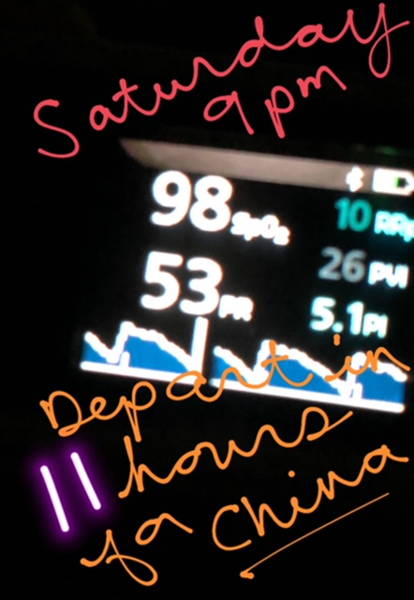 Night before departing for China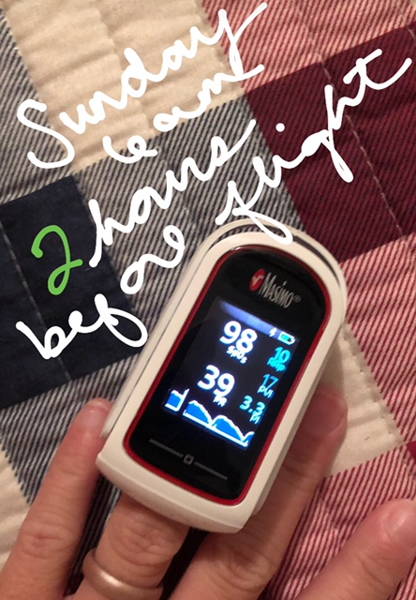 Resting at home Sunday morning two hours before first leg of the trip
At the Dallas airport ready for take-off to Beijing, China
Somewhere on a plane. I've been trying to get up and walk around and stretch every few hours. I'm tired. My body is tired. I can feel my hands and feet swelling. Ugh. 5 more hours….
9 hours into the 14 hour flight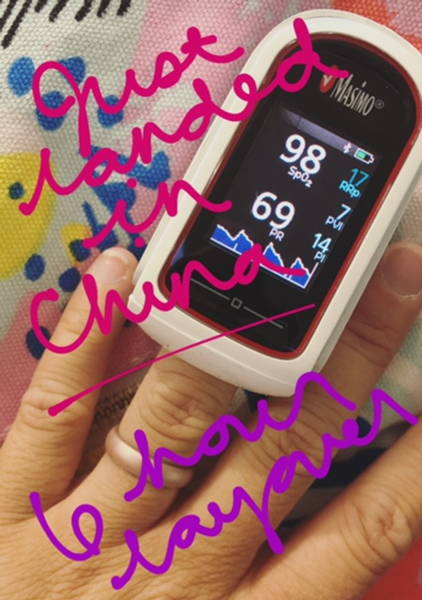 Just arrived in China. One more flight before I reach my final destination.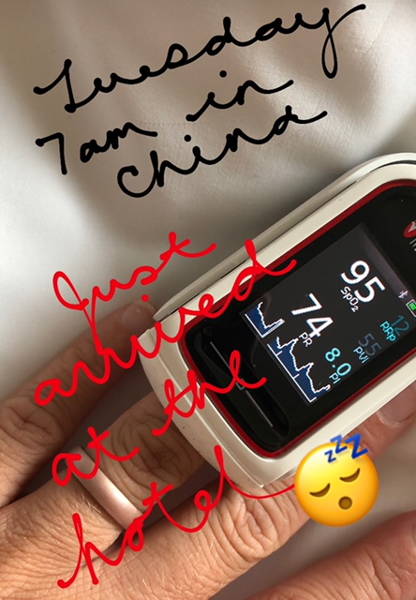 Finally arrived at the hotel
Beijing, China. I'm in China! …..but I have one more flight and it keeps getting delayed. I've been here for more than 6 hours now – walking around, stretching, and doing some body weight exercises. My hands, legs and feet are already feeling way better but I'm exhausted.
Qinzhou, China. I made it!! After an almost 12 hour layover in Beijing, I had a 3 hour flight to Nanning and then a 2 hour shuttle ride to the hotel in Qinzhou.. I'm soooo tired and my body just hurts all over. I'm going to take a quick nap – I usually don't do this but I'm letting myself this time! Once I get up I'll go move around in the gym a little bit to get the blood flowing. After that we will do a light practice and be done for the day! My SpO2 (95) is low but not terrible considering my last 36 hours. I don't want to overdo it today. Just want to move around and treat today like an active recovery day to hopefully get my SpO2 up! First match is in 2 days.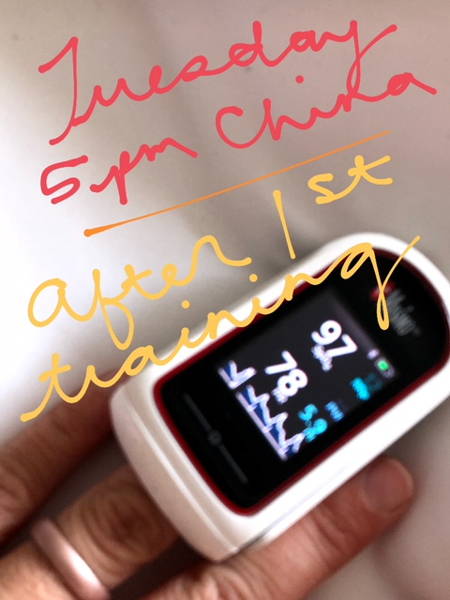 Tuesday 5:00 pm – after first training in China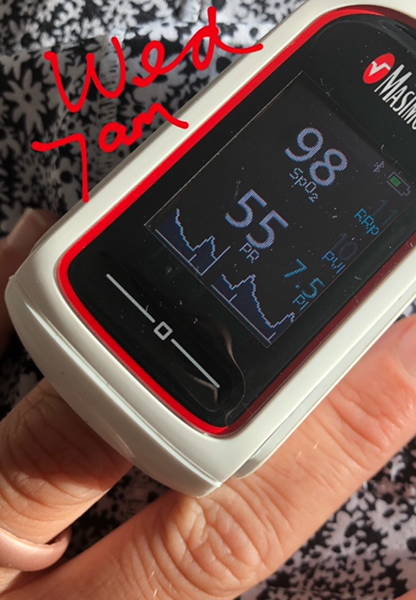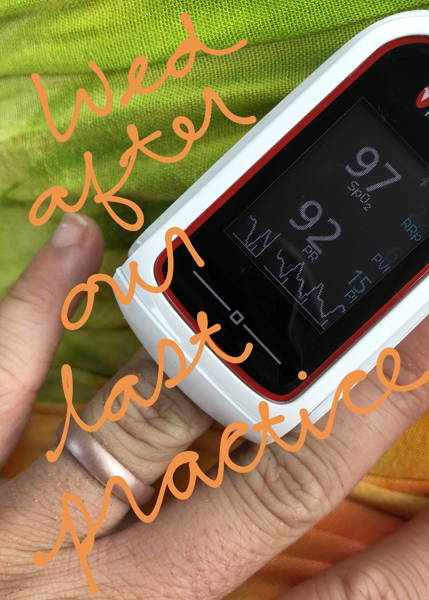 Last practice before the competition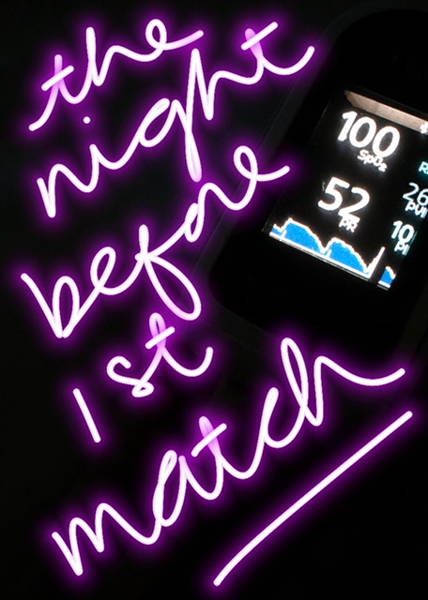 The night before the 1st match in China
Qinzhou, China. Finished my gym work and our light practice. My body is starting to feel a little more normal. Numbers are looking better but hoping to get SpO2 up to 100 before competition starts!
Qinzhou, China. Our first match is tomorrow. I'm happy to see my SpO2 creeping back up! I'll move around in the gym again today and get a solid practice in. I usually don't practice too hard or too long the day before a tournament starts but since this one is single elim we only play one match a day until the third day. I want to push myself a little bit today, and after taking a look at my MightySat numbers, I'm comfortable doing so.
Qinzhou, China. Just finished practice! You can see my breathing rate (number of breaths per minute) is higher than all my other readings. This is the most active I've been in the last 36 hours but this number will soon begin to drop back down as I recover. My SpO2 is at 97 – not bad but I will take it a little easier today in the gym than I had planned. I'll get a good stretch in and do my pre-hab exercises. When I get back to the room I'll put my legs up and relax for the evening.
Qinzhou, China. Night before competition starts. I'm falling asleep as I check my numbers and I'm so excited to see I'm at 100 for SpO2!! I was a little worried I wouldn't see 100 for a few days but I think taking it easy today after practice was key! I'm so ready and so confident to get this going tomorrow! I'm feelin' good!