Advanced health tracking with accurate, continuous actionable health insights
Helps businesses reopen & stay open responsibly during COVID-19
Helps businesses reopen & stay open responsibly during COVID-19
Advanced health tracking with accurate, continuous actionable health insights
Performance You Can Depend On
Masimo is the leading brand of hospital pulse oximeters Reference 1 because Masimo devices provide accurate measurements when other pulse oximeters fail by using revolutionary Signal Extraction Technology® open paren (SET®)close paren. Masimo SET® uses five parallel processing engines that measure through challenge conditions, including movement and low blood flow. Clinically proven Masimo SET® has been shown in more than 100 independent and objective studies to outperform other pulse oximetry technologies and is used to monitor 200 million patients a yearReference2.
Monitor your health using the same pulse oximetry technology hospitals rely on
MightySat® is the only fingertip pulse oximeter to measure five key vital signs: oxygen saturation, pulse rate, breathing rate, perfusion index, and pleth variability index. Powered by Masimo SET®–the same technology used to monitor over 200 million patients annually in hospitals around the world. Reference1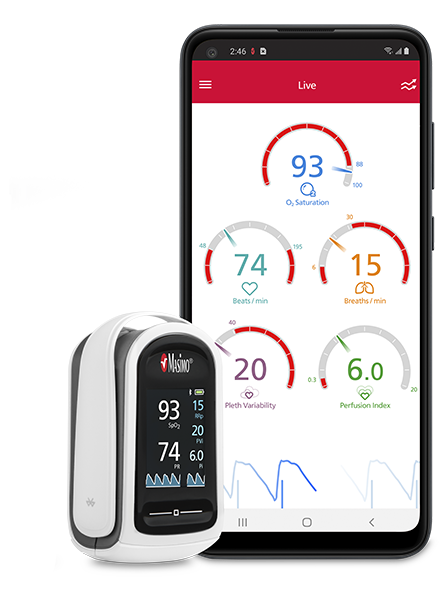 Reference

1 Estimate: Masimo data on file.

Reference

2 Clinical study abstracts presented at scientific meetings and peer-reviewed journal articles can be found on our website at http://www.masimo.com.
Serial Number: PLCO-004386/PLM-12547C-1020